Fall home maintenance is all about getting your house ready for the cold season. And cleaning your gutters is one of the most important tasks when seasons change. Proper gutter maintenance is essential as failing to remove minor blockages, especially with the abundance of falling leaves in the autumn, can end up causing more significant problems like flooding that can cost you more in repairs down the line. In this article, we hope to answer some common questions about gutter cleaning maintenance and the most suitable time to plan your gutter system cleaning.
How much does a gutter cleaning cost?
The pricing for gutter cleaning in the Chicagoland area varies by the footage and the number of stories/house height. The gutters on single-story homes are the easiest to reach and clean, so they're typically much cheaper to clean than those on larger multistory homes. For this type of house, the average national cost ranges from $70-$120. Although for the properties that have gutter guards installed, the cleaning services will be more costly. As for the downspouts, they are sometimes charged separately at about $10-$20 per downspout. Some companies will charge you an extra $5-$10 for each filled bag of leaves to be removed from the premises, or some may not dispose of it, leaving it for you to handle. Ask your local gutter cleaning company what is included in their cleaning process and how much each additional service costs.
Below is a typical cost chart for gutter cleaning in the Chicago area.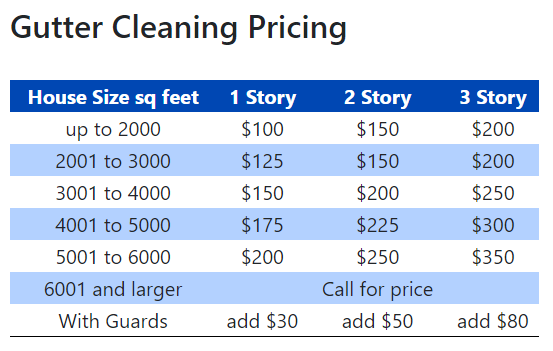 What is the process of gutter cleaning?
Whether you have a plastic gutter system installed or a metal one, cleaning should be done using soft brushes. We do not use rough, metal tools that can damage the coating of parts. First, we take all debris out of your gutters by hand or using a leaf blower. The cleaning is done in the direction of the drains to the edge of the gutters. Property Refresh uses water to wash away dirt and flush out pipes. It is advised to use a powerful and thin jet of water. There are special spraying nozzles for cleaning you can attach to the hose; they are incredibly convenient for this task. Then we will bag all debris and take the bags with us. After cleaning the gutters, we will inspect the downspouts and unclog them. When we're done, the technicians will walk around the house to clean any debris that might have fallen while cleaning gutters.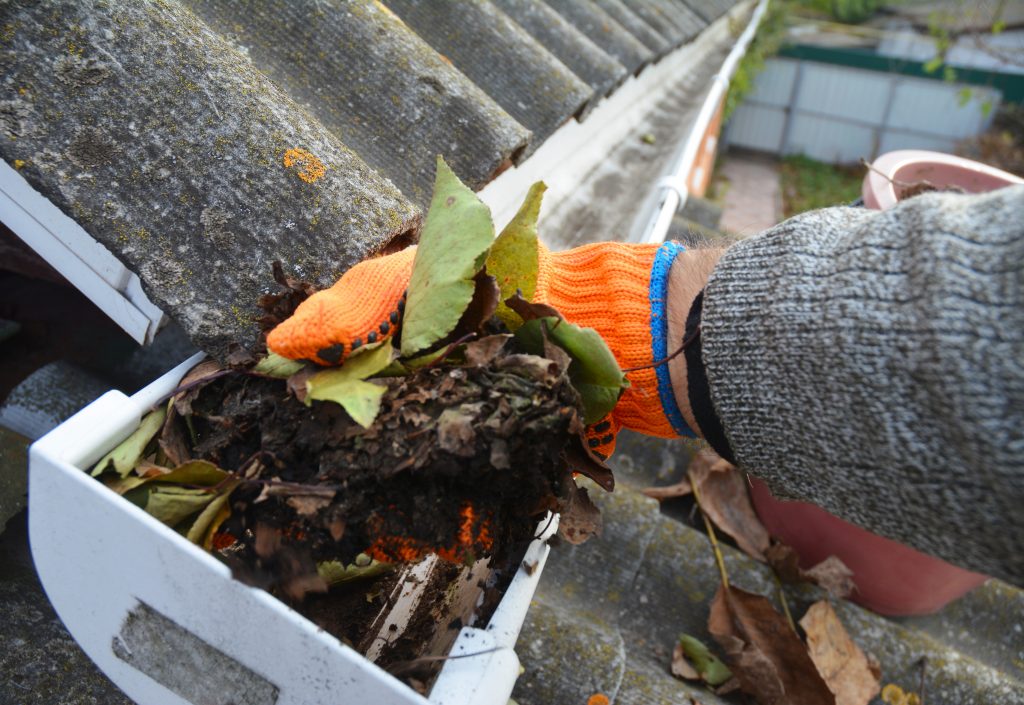 When is the best time to get the gutters cleaned?
Many of our customers are interested when is the right time to clean the gutters and how often they should run the same process. It is recommended to clean the gutters twice a year: in late spring and fall before winter starts. If trees grow near the house or building, cleaning in fall should be done more often. Falling leaves can clog the gutters and the downspouts, which can result in flooding the basement. In addition, it is necessary to inspect them regularly during winter for ice formation. If ice has formed in the gutters, it must be removed and cleared. Aside from regular cleaning, gutters should be cleaned when they get clogged by thunderstorms or major floods. It is quite beneficial to your gutter system to run clear during the warm or changing seasons.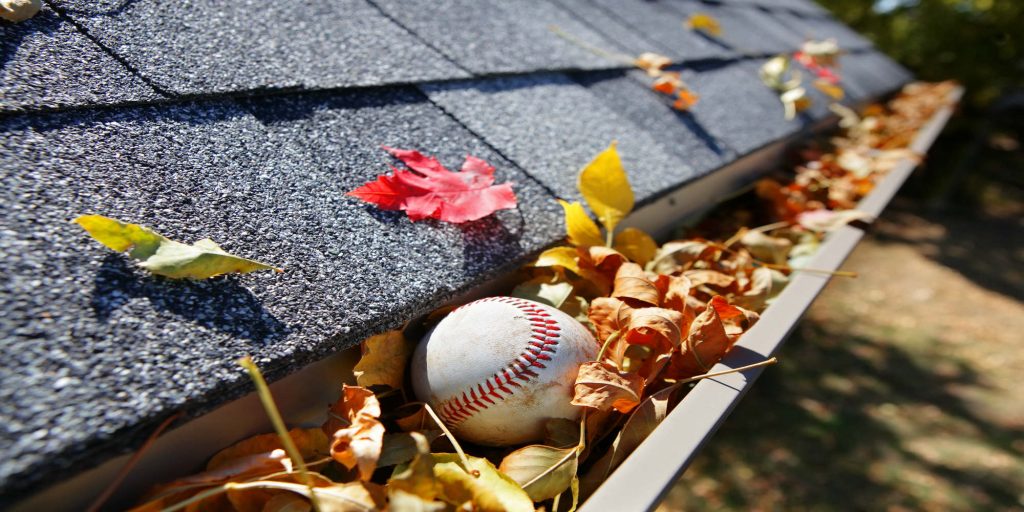 How often do you clean the gutters?
Having your gutters cleaned regularly is cheaper than risking long-term water damage from clogged gutters. It is recommended to clean your gutters regularly and at least twice a year. Only regular and on-time maintenance can ensure the smooth functioning of the gutter system and protect your home from rain and meltwater. With that said, do not neglect preventive care; the gutters will serve you for a long time and remain in good condition. It is easy to forget about regular gutter maintenance, but this could cause more significant problems, such as blockages and flooding, so it is important to have regularly scheduled gutter cleanings at least twice a year. Additionally, it is beneficial to check the gutters after storms or high winds to see if they require cleaning. Property Refresh is here to help you take care of your draining system, protect it from clogging, and regularly perform maintenance to ensure long-lasting, high-quality service.